LOLA'S ROCK WALL BUSINESS FRIENDS
THERE ARE SOME BUSINESS FRIENDS THAT DECIDED TO GO ABOVE AND BEYOND TO SUPPORT LOLA'S CAFE.  
WE THINK THEY'RE SWELL AND WANT YOU KNOW ABOUT &  SUPPORT THEM TOO!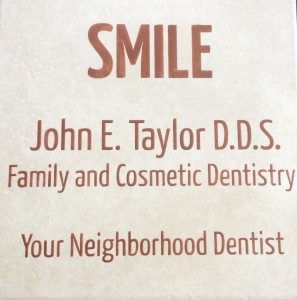 As your neighborhood dentist, Dr. John E. Taylor is devoted to the care, preservation, restoration and enhancement of your smile.
Dr. Taylor's standard of excellence in personalized dental care enables him and his experienced team to provide the quality dental services all patients deserve. Dr. Taylor offers routine and comprehensive treatment planning, as well as restorative and cosmetic dentistry to achieve your optimal dental health.
Building a foundation of trust by treating patients as special individuals is a cornerstone of Dr. Taylor's success. The Dr. Taylor team understands how uneasy some patients may feel about their dental visits, and they take every measure to ensure a relaxing and positive experience.
Dr. Taylor D.D.S. is conveniently located on Corporate Drive, and offers extended hours for busy families and professionals. As a Ladera Ranch resident himself, Dr. Taylor takes pride in offering his community the best in dental care.
Dr. John E. Taylor D.D.S. ~ 600 Corporate Center Drive, Suite 260 ~ Ladera Ranch, CA
949.542.7200    drjohntaylor.com                 #drjohntaylor #laderaranchdentist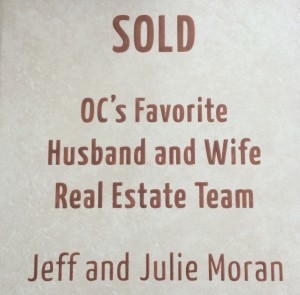 Jeff and Julie Moran, Realtors and Friends of Ladera Ranch and Lola's Cafe, built their first home in Ladera in 2004.  Jeff and Julie both grew up in South Orange County so they have their "Roots" here and have watched this great community grow into what it is today.
Jeff grew up in San Clemente, Julie grew up in Lake Forest.  This is why they created their brand, "OC ROOTS REAL ESTATE".
LOCAL - They know South OC inside and out.  EXPERIENCED - Over 20 years combined real estate experience.  TRUSTED - To know Jeff and Julie is to love them (srsly!)  DEDICATED - Everything they do is top-notch, you won't be disappointed.  PASSIONATE - They only want to make happy clients!
Buying a new home or moving on from your current space - finding the right folks to help with this journey can be challenging.  Take a solid first step and give Jeff & Julie a call... they've been great friends to Lola's Cafe and are worth checking in with and considering for your real estate needs!
#OCRoots #JeffAndJulieMoran
OCRoots.com   JeffandJulieHomes.com
Jeff - (949) 289-5170  Jeff@OCRoots.com   Julie - (949) 466-4409  Julie@OCRoots.com
___________________________________________
LOLA'S CRAFTY FRIENDS
Lola's Cafe really digs the crafty skills so many of our friends have. We thought 'Why not have a place they can display and sell their creations?' So we asked some folks that live in and around Ladera Ranch and invited them to have their work in "Louis' Mercantile" inside the cafe. You're more than encouraged to come by and check out their stuff or link up to their online shops and take a look around!
SCRAPPY GIRL - Scrappy Girl lives a stone's throw from Lola (literally).  Fun and unique creations for Scrappy Girls of ALL AGES!
                www.scrappygirlshoppe.etsy.com  and www.scrappygirlhandmades.etsy.com
ART BY JEN F. - We saw Jen's work at the Harvest Festival and knew she was right on target. She's a Ladera Ranch based potter who is inspired by bright colors and loves simplicity. She specializes in bud vases and items for the garden.
___________________________________________
WHO HELPED BUILD LOLA'S CAFE?
DAVID GANGLOFF is an architect based in Ladera Ranch.  He came on board during our crowd funding campaign and has been a vital part of the process of bringing Lola's Cafe to life.  As a long time resident in our town, he has been invaluable in helping our dream take a physical shape and helping to make sure it is a unique space to visit.                                                                                                    WHAT HE BRINGS....Innovation, craftsmanship, technology, experience and a sincere love for the practice of architecture is what the DAVID GANGLOFF ARCHITECTS (DGA) Studio is all about. We believe in the ability of design to enrich and transform lives. We listen. We solve problems. We make friends.
As it happens, David's a wicked photographer and it's worth checking out his website.  He has been featured in many local publications and can be hired to catch that unique moment you'd like to treasure!
                                                                                         http://davidgangloffphotography.smugmug.com
---
 ORANGE COUNTY SMALL BUSINESS DEVELOPMENT CENTER - When we started with a nugget of an idea, we knew we'd need A LOT of help.  By way of a random pamphlet our our local OC Library branch, we stumbled into what has been, in all reality, a LIFE CHANGING RELATIONSHIP. We can't say enough amazing things about the Orange County Small Business Development Center (OCSBDC).  From the very beginning of letting us know 'yes, we think you have a viable idea' and the long journey of opening for business, this experience has been a blessing beyond words.  If you're looking to start, or already own, a small business in Orange County - take a moment and check out their website for information, seminars and possible consultation.  You won't regret it!
---
___________________________________________
RANDOM THINGS LOLA LIKES
We all know Lola loves music of all kinds.  Trying to find a commercial radio station that doesn't suck out loud can be challenging (however, we all know college stations are mas bueno!).  THAT said... a station blasting from the Rock n' Roll Capitol - Cleveland, OH (CLE) is filling the void and doing it only online while preparing for the near future of leaving radio towers behind.  oWow will def be filling the atmosphere in Lola's Cafe!